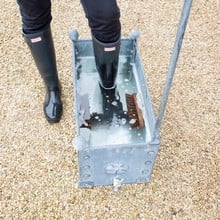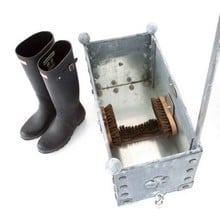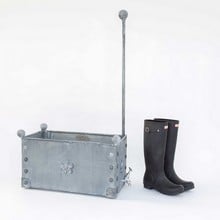 Galvanised Steel Boot Wash
£39.95 P&P
Size:
60cm x 30cm x 30cm Handle Height 112cm
A magnificent Galvanised Steel Boot Wash with 2 sidebrushes and one base brush to get even stubborn mud off your boots. Tank will hold 50 litres of water when full or approx 30 litres when filled to just above brush height.
Read More
A magnificent Galvanised Steel Boot Wash with 2 sidebrushes and one base brush to get even stubborn mud off your boots. Tank will hold 50 litres of water when full or approx 30 litres when filled to just above brush height.
Made in England by artisan metal craftsmen from heavy gauge galvanised steel, hot dip galvanised for a longer life and decorated in a traditional Georgian style complete with Tudor roses and decorative balls. The Boot Wash includes a sturdy steel handle for stability when scrubbing the boots and a tap for draining the water off after use.
Boot Wash fabricated in 1.5mm galvanised steel
All joints are treated with a waterproof mastic prior to final assembly
The boot wash is treated to give an aged patina which will develop further over time
Main Boot Brush unit measures 60cm long x 30cm wide x 30cm high with the handle 112cm high
Tank holds 50 litres when full or approx 30 when filled to just above brush height
Easy Assembly - just need to attach the handle to the tank
Optional Galvanised Steel Boot Scraper also available
Full instructions included
Please allow 15-20 working days for delivery
Be the first to write a review for this product.