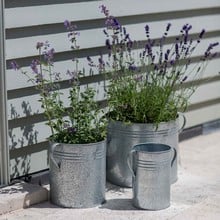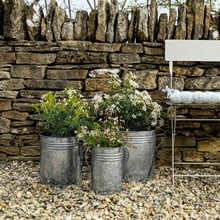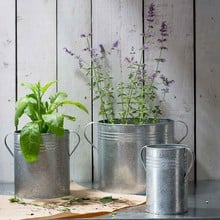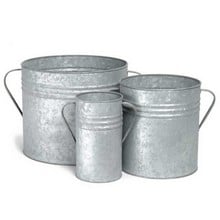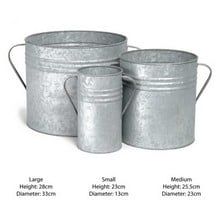 Galvanised Planters Set of 3
£5.95 P&P
The Galvanised Steel Planter Set, designed to be used both indoors and outdoors, will make an attractive addition to your home or garden, perfect for flowers, herbs or topiary.
Read More
The Galvanised Steel Planter Set designed to be used both indoors and outdoors, will make an attractive addition to your home or garden, perfect for flowers, herbs or topiary.
These attractive planters are crafted in galvanised steel making them completely weatherproof. The planters come without drainage holes, allowing them to be used indoors as well as out.
The set of 3 planters includes; 1 Large 28cm H x 33cm D, 1 Medium 25.5cm H x 23cm D and 1 Small 23cm H x 13cm D.
With their ridged line design and decorative handles, the trio of planters would sit perfectly in the potting shed or greenhouse, filled with your favourite plants. The classic design is based on original farm churns, bringing a touch of vintage into the home.
Galvanised Planters supplied in set of 3
Large Planter - 28cm H x 33cm D - 24 litre capacity
Medium Planter - 25.5cm H x 23cm D - 10 litre capacity
Small Planter - 23cm H x 13cm D - 4 litre capacity
Crafted in galvanised steel
Weatherproof
Attractive ridge line design and decorative handles
No drainage holes - suitable for indoor and outdoor use
Images supplied by Garden Trading
Be the first to write a review for this product.