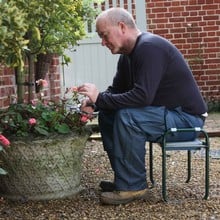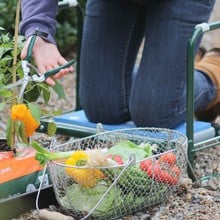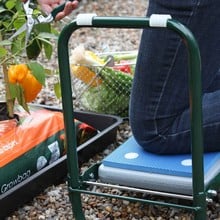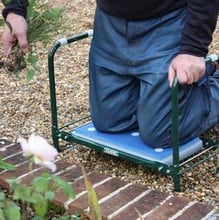 Folding Kneeler and Seats aren't new to the garden or potting shed but this deluxe version is a cut above the rest of garden kneeler and seat combos; it will provide a sturdy and safe plastic seat to perch on at a convenient working height; a comfortable foam kneeling pad with arm supports for resting and getting up - and it folds down almost flat for storage!

Manufactured from tubular iron, the frame of the folding garden kneeler and seat will take up to 19½ stones in weight and the plastic seat section of the double sided pad measures 42cm wide by 22cm deep, whilst the foam kneeling pad is 36cm wide and 18.5mm deep and the folding mechanism is quick and simple to operate. But don't confine this eager-to-please kneeler and seat to the garden; yes, it will keep your knees and backside off hard, wet and muddy surfaces but it's equally at home around the house and on camping trips! The overall size of the folding kneeler and seat is 54cm wide, 25cm deep and 40cm in height.
Folding Kneeler and Seat is ideal for gardening, painting and decorating and many other tasks
Acts as both a seat and kneeling pad
Folds almost flat for storage or carrying
Pops up in seconds
Heavy duty plastic seat for comfortable pruning, planting and innumerable other gardening jobs
Foam kneeling face easy on knees
Arm rests and support for getting up and down in kneeling position
Tough tubular iron frame
19½ stone weight limit
Seat measures 42cm W x 22cm D
Seat is 33cm off the ground
Kneeler is 14cm off the ground
Kneeling pad is 36cm W and 18.5mm D
Simple spring loaded folding mechanism
Ideal for use around the home and on camping and leisure trips
Measures 54cm W x 25cm D x 40cm H
14th June 2017
Following an accident, I have found working on my knees in the garden very difficult, but this kneeler/seat has made all the difference. It is both sturdy and comfortable, and very easy to clean.
12th August 2016
This converts back & forth from a kneeler to a handy seat (for those of us of a certain age with achy, stiff lower limbs, it's a God-Send!) I have bought a couple of cheaper versions from another source in the past and wrecked them both - but this one from Harrods is far more sturdy. I confess to being a little overweight, but not grossly so (16.5 stones). My Harrods one will comfortably support 19st they say - and I don't disbelieve them, but I'm certainly not aiming to gain some pounds in order to prove their point. In all I am very happy with my purchase and pleased that I decided to spend that little bit more on one. If you are like me - one who takes longer to arise from a kneeling position than it does to get down there to work on your flowerbed, try one for yourself :)
What The Press Say
Grow Your Own
May 2016
Pick of the Crop Knee Pads - Protect your joints with these incredibly useful kneelers
Enjoy ultimate comfort on the plot with this brilliant knee rest. The product provides padded support when working close to the ground, and when it is flipped over, this piece of equipment can also act as a seat. You'll never need to suffer with stiff knees or aching legs ever again.
Kitchen Garden
March 2016
Product Reviews Knee Pads and Kneelers
KG Verdict - This is easy to put up and put away. The pad on the kneeler itself was comfortable on the knees. Great too for seated gardening. Strong and Sturdy. ***** star!