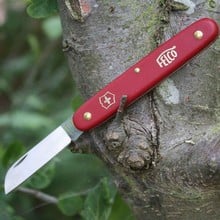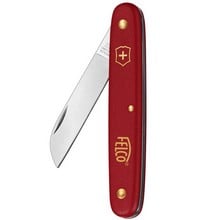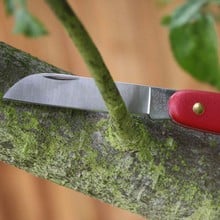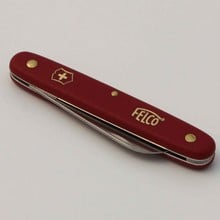 Felco Victorinox General Purpose Knife
£3.95 P&P
This Felco Victorinox Swiss precision general purpose folding knife is perfect for general garden tasks including pruning and grafting and will be a constant companion on your forays into the garden.
Read More
This Felco Victorinox Swiss precision general purpose folding knife is perfect for general garden tasks including pruning and grafting and will be a constant companion on your forays into the garden.
Victorinox, famous for the original Swiss army knife, have for many years produced excellent horticultural knives popular with nurserymen and gardeners alike and it's not hard to see why their knives are so popular and long-lasting - tough nylon handles and blades made from high carbon stainless steel, which can both take and hold a superb edge, represent all you can expect in a garden knife.
With a 5.8cm long blade and the ability to cut through almost all the materials you'll come across in the garden, the pocket-sized Felco Victorinox General Purpose Knife is a real garden essential.
Victorinox General Purpose Knife perfect for pruning and grafting
Tough nylon handle with high carbon stainless steel blade
Blade measures 5.8cm
Excellent quality general purpose garden knife
Blade holds a razor sharp edge
Pocket-sized
Suitable for general purpose work and even budding and grafting
4th July 2019
Excellent reliable product, delivered promptly
What The Press Say
---
Kitchen Garden
2014-01-01
Joyce Russell tries a range of garden knives
This classic, folding pocket knife with a decent enough blade to use for garden tasks. It is made with all the precision one would expect from Felco and is at a good price. The blade is sharp and it copes with small cutting tasks, including fiddly ones like taking sideshoots from tomatoes. Not really a pruning blade but it will slice through green stems without a problem. A useful tool to have to hand on forays around the plot. Overall rating ***** Joyce's choice for general use.
---
Garden News
2012-01-17
Tried and Tested - Folding Garden Knives. Geoff Hodge tests tools with 101 uses
A great. lightweight knife combining two famous brands - Felco secateurs and Victorinox, makers of the Swiss Army Knife. Produced a good cut and was really comfortable to use. The blade housing has a metal alloy lining to protect the blade. Comfort in use 5*. Quality of cut 5*.
---