Eryngium giganteum Miss Willmotts Ghost
£9.95 P&P
Eryngium giganteum Miss Willmotts Ghost, named for Miss Ellen Willmott (1853-1934) is a very hardy herbaceous perennial which grows up to 1 metre (3ft) with silvery white flower heads.
Read More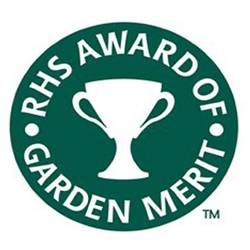 Eryngium giganteum Miss Willmotts Ghost, named for Miss Ellen Willmott (1853-1934) is a very hardy herbaceous perennial which grows up to 1 metre (3ft) with silvery white flower heads.
Also known as Eryngo or Giant Sea Holly this attractive deciduous plant is rosette-forming and produces heart-shaped, mid green basal leaves 7-16cm long. The long cones of flowers have bracts 6cm long and both the flowers and bracts are prickly.
An attractive addition to the herbaceous border this plant is very hardy and can withstand temperatures down to -20°C (-4°F) making it suited to the UK climate even in exposed upland locations.
Buy as single plant or SAVE with pack of 3 plants!
Eryngium giganteum Miss Willmotts Ghost - a very hardy herbaceous perennial
Deciduous rosette forming plant
Named for Miss Ellen Willmott (1853-1934)
RHS Award of Garden Merit
Silvery white flower heads
Originates from Caucasus, Iran
Great for wildlife - nectar and pollen for insects
Height 90cm (36in) Spread 30cm (12in)
Very hardy to -20°C (-4°F)
Prefers full sun and well drained, dry, poor to moderately fertile soil
Flowers June to September
Readily self seeds
Supplied in 1.5-2 Litre pots
Please allow up to 14 days for delivery