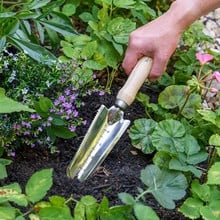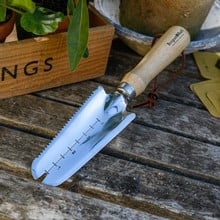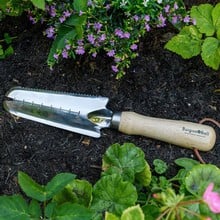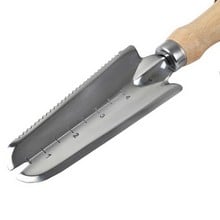 Burgon and Ball Weeding Trowel
£5.95 P&P
The RHS endorsed, Burgon and Ball weeding trowel has a multitude of uses, with both a serrated and straight blade to cut through roots with ease and a handy depth guage useful for bulb planting
Read More
Availability: Out of Stock

Unfortunately this item is currently out of stock.
The Burgon and Ball RHS-endorsed weeding trowel is an extremely versatile multi-use tool for planting and weeding.
As a weeding tool, it's ideal for digging out weed roots, with a notch to tackle long tap roots and when it comes to planting, this trowel is extremely handy for digging narrow holes in tightly planted areas.
The depth gauge is useful for planting bulbs and for moving plants, with choice of serrated or straight blades to cut through roots. You'll wonder how you ever gardened without it!
The mirror-polished stainless steel head is resistant to rust and offers clean movement through the soil. The FSC-certified hardwood handle offers a comfortable grip and the sturdy leather hanging cord is ideal for tidy storage.
As with all Burgon and Ball RHS endorsed stainless steel tools, this weeding trowel comes with a lifetime guarantee.
Burgon and Ball Weeding Trowel
Endorced by the RHS
Stainless steel head and FSC® hardwood handle
Overall length 28cm
Lifetime guarantee
Be the first to write a review for this product.