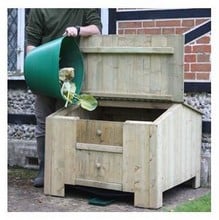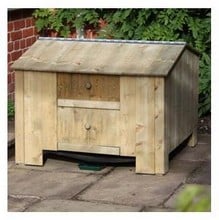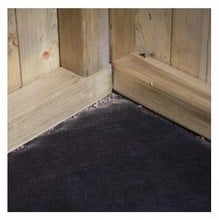 Superior Large Wormery - 332 Litres
£4.95 P&P
Size:
0.7m H x 0.9m W x 0.93m D
Our Wooden Superior Large Wormery was designed not only to look good, but also to provide a large surface area for the worms which speeds up the composting process. Made from FSC wood and has a 5 year guarantee
Read More
5 Year
Structural
Guarantee
Exclusive Designed &
Made by us in the UK
Our Superior Large Wormery - to our knowledge - has the largest surface area of any product on the market today which in the world of wormeries is a vital statistic; once established, the larger the surface area of a wormery, the faster the composting process will be completed.

Supplied with detailed assembly and operational instructions, the Superior Large Wormery has been designed with input from professional worm farmers, comes complete with worms and bedding and carries a 5 year guarantee. The Superior Large Wormery also features a hinged lid, slatted front panels and a rot-proof mesh in the base and is THE wormery to go for if you're serious about worm composting!
Superior Large Wormery surface area is 7396cm2 (0.7m/2'4" H x 0.9m/3' W x 0.93m/3' D)
No awkward tray system
Design is the result of consultation with professional worm farmers (yes they do exist!) and evaluation of existing product
Supplied with 500g of worms & bedding culture
Step by step instructions
Convert kitchen and garden waste into the highest grade of organic fertilisers (worm cast and liquid feed)
Free draining base to allow any excess liquid to drain safely away
Drip tray collects any excess liquid which makes a fantastic organic plant feed or compost accelerator
Hinged lid keeps heat and worms in and rain out
Tough plywood construction
Slatted front for unrestricted access
Plywood used in construction obtained from a managed sustainable source
Lined with a water permeable worm barrier to stop escapees
Free draining rot-proof mesh in base
5 year guarantee
This product is supplied as a kit for self assembly
14th May 2010
Easily assembled but quite heavy. Screw holes would be better drilled fully to ease tightening, but basically straightforward instructions. Surprisingly long time (2-3 months) predicted for population by worms, before which I can apparently add little new vegetation.
25th October 2008
Very nice product, neat and clean looking. Once assembled, it looked so cosy, I almost moved in myself. Normally I hate flat packs but this was easy enough to assemble. Pay attention to the alignment of the roof panels and hinge, as this is crucial to to the opening and closing of the lid. It takes about 2 hours to assemble, maybe less if you are adept with an electric screwdriver. I already had a small wormery but I am now recycling loads more kichen and house-hold waste than I was with my smaller wormery. The the worm cast produced has keep the garden flowering long after it should have died back and my lemon harvest is the best ever. So all in all, it appeals to the penny pincher in me who doesn't have to go to the dump quite as often and the gardener in me who loves what it does for the flowers. The only down side was the time I had to wait for delivery. It seemed that Harrods was having problems sourcing the product but it was well worth waiting for.
Feeding Your Worms
In order to produce the wonderfully rich worm cast and equally as palatable (for the garden of course) liquid residue, you'll need to feed your worms well. Fortunately they're not too fussy and will happily munch through similar food to ourselves, but there are some dishes that worms will turn their noses up at.
Here's an idea of what to feed them.
Worm Menu

I'd like…
Vegetables and peelings,Fruit and peelings (but go easy on citrus), Tea bags and coffee, Bread (including pizza), Rice, Pasta, Cereals, Crushed egg shells (they must be crushed), Cakes and biscuits, Sugar, Cheese and Baked Beans

I'd also like (but we wouldn't!)…
Cardboard and paper
Contents of the hoover bag
Leaves (but not too many)

I'll pass on…
Meat, Bones, Perennial weeds, Weed seeds, Diseased plant material and poisonous plants, Garlic, Spicy foods, Onion skins, Eggs, Dairy Products, Salt, and Oils, Bon appetite!