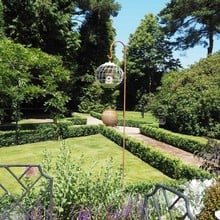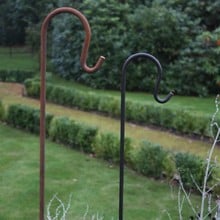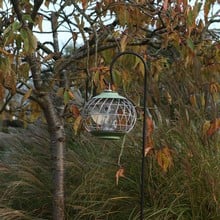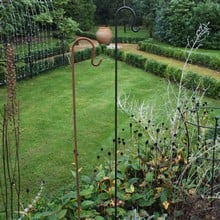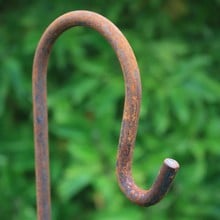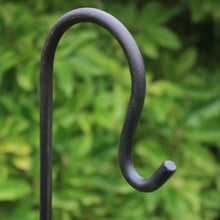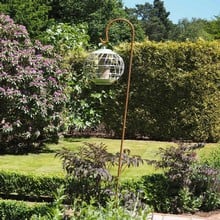 Shepherd's Crook - Bird Feeder Hanging Hook
£4.95 P&P
The Harrod Shepherd's Crook is ideal for hanging bird feeders and garden lanterns, made using solid steel rod and available in degreased steel which develops an even rust finish or powder coated matt black.
Read More
Exclusive Designed &
Made by us in the UK
3 Working
day despatch
Designed and manufactured by us in the UK, the Shepherd's Crook is an attractive addition to any garden, looks great in borders, and using solid 12mm steel rod it's made to last.
The crooks measure 2.1m overall with 0.3m designed to be pushed into ground for stability giving 1.8m height above ground. Available in 2 finishes - Natural Rust which is supplied in degreased steel which quickly develops an even rust finish and matt black powder coated.
Buy a 2 Pack in Rust & Save £4 - Buy a 2 Pack in Black & Save £5!
Designed and manufactured in the UK by us.
Solid 12mm steel rod
Natural Finish & Matt Black Finish available
Stands 1.8m above ground - 0.3m pushes into the ground
Distance between upright and hook is approx. 18cm - 7"
Ideal for hanging bird feeders or garden lanterns
Attractive design - perfect in borders
Buy 2 & Save £3!
16th July 2019
I am very happy with the service I received from Harrod Horticultural. I ordered the shepherds crook to hang the bird feeders from, and they are excellent. They are very sturdy metal construction, made of one solid piece (as opposed to the sectional versions other companies sell), which means they're much more stable in use. The height also is great - much taller than most others, which is better for the birds. I highly recommend them!
10th July 2018
The metal shepherds crooks came on time and were as described online. Very pleased - now in use as bird feeders (squirrel proof) and as solar light holders.
16th January 2018
I have now bought several of these for myself and friends/family. They are made of high quality steel and are very robust so can support a wide range of bird feeders. They can be sited almost anywhere giving good flexibility in siting your feeders.
What The Press Say
---
Grow Your Own
October 2015
Pick of the Crop
Shepherd's crook bird feeder - this shepherd's crook is a beautiful feature for any garden. It's made using a solid steel rod which is decorative and functional. The feeder can be hung from the crook and allows birds to enjoy their feast without disturbances.
---