Powder Coated Aluminium Screens (Drift Design)
£19.95 P&P
These Aluminium Screens are made of powder coated aluminium with a stunning laser-cut drift design and de-burred for consistency, precision and safety.
Read More
These Aluminium Garden Screens are made of powder coated aluminium with a stunning laser-cut drift design and de-burred for consistency, precision and safety. This beautiful Drift design combines floral shapes with a geometrically formal structure, to screen and delineate spaces.
The screen panels are the perfect solution to a privacy issue, for dividing up your outside space or simply to make a stunning statement in the garden, they can also be used as a boundary fence panel.
All panels, posts, clamps and end caps are powder coated with Interpon 8019 Structura, providing an ultra-durable coating of weather resistance to colour change and ensures long term cosmetic and functional protection.
The screens are fixed by steel clamps to aluminium posts, which need to be set in concrete just like traditional fence posts. Aluminium is resistant to corrosion, and the inherent strength of the box-section construction means that these posts will stand the test of time.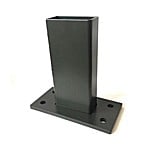 Powder coated Aluminium Screens in Drift design with 65% opacity
Screens measure 1780mm H x 1190mm W x 3mm D
Posts measure 2400mm L x 100mm W x 50mm D
Posts designed to be inserted 50cm into the ground
Aluminium panels are powder coated in RAL 8019 (Grey/Brown)
All posts, clamps, end caps and terrace feet are powder coated in RAL 7021 (Black/Grey)
First (or stand-a-lone) panel will require: 2 x Posts,
6 x Clamps, 2 x End Caps
Each subsequent panel will require: 1 x Post,
6 x Clamps, 1 x End Cap
Posts, clamps and end caps available as a 2 Post Kit or individually
Terrace feet are available singularly if required for securing posts onto paving or a concrete base
Please allow 3-4 weeks for delivery
Example order - 2 Panels, 3 Posts and clamps total dimensions:-
Screens width is 1190mm x 2 = 2380mm
Post width is 100mm x 3 = 300mm or posts can be turned round to shorter width 50mm x 3 = 150mm
Clamp spacing 20mm x 4 = 80mm
Total length for 100mm width posts = 2760mm or 50mm width posts = 2610mm