Harrod Slatted Shelving Willow Grey
Strong, aluminium slatted shelves in Willow Grey really add to the productivity of the greenhouse, being able to butt up and hold seed trays or pots. Use a 6ft length shelf in an 8ft greenhouse and 2 x 4ft shelves in a 10ft model, etc..
Read More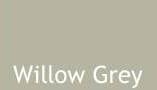 Our strong, aluminium 10" slatted greenhouse shelving really adds to the productivity of the harrod greenhouse, being 10" deep they are not only designed to hold seed trays but the 4" wide slats provide the perfect surface for pots too. The shelving is powder coated Willow Grey to match the greenhouse.
Available in 4ft and 6ft lengths that can butt up next to each other allowing you to make the most of your greenhouse space. Use a 6ft length shelf in an 8ft greenhouse and 2 x 4ft shelves in a 10ft model, etc...
NB. Please allow 2 weeks for delivery.