Harrod Roman Arch Arbour
£14.95 P&P
The Harrod Roman Arch Arbour, based on our best selling Roman Arch, features beautifully engineered welded steel trellis panels to create a stunning garden arbour that will become a real feature in your garden.
Read More
Exclusive Designed &
Made by us in the UK
3 Working
day despatch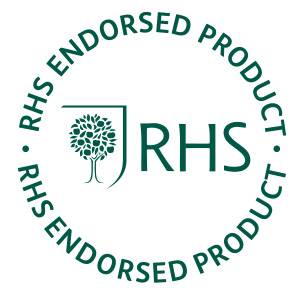 The Harrod Roman Arch Arbour, based on our best selling Roman Arch, features beautifully engineered welded steel trellis panels to create a stunning garden arbour that will become a real feature in your garden. The long lasting steel design is a great alternative to wooden trellis and comes with a 10 year framework guarantee.
Exclusively designed and manufactured by us in the UK the Roman Arbour frame uses 25mm box section steel which is galvanised and high temperature powder coated Matt Black for a long lasting weatherproof finish. The Trellis Panels are made using precision welded 3mm steel wire mesh with a strong 8mm surround frame, all zinc plated and powder coated matt black for a long life. The arch and trellis framework provides reliable plant support and will look stunning adorned with fragrant and colourful climbers.
Endorsed by the RHS, the Roman Arch Arbour is supplied as a complete kit including the arch framework and back trellis panels. The Arbour measures 1.5m wide and 2.20m high above ground with 40cm on each upright designed to be inserted into the ground for stability. The framework can be concreted into position for even greater rigidity. The arbour is available in 3 depths 0.6m, 1.05m and 1.55m.
The stylish Harrod Garden Bench will neatly fit inside the Roman Arch Arbour measuring 1.3m long. The bench will give the finishing touch to the arbour creating a tranquil seating area in the garden. Made using the same high quality steel box section, galvanised and powder coated matt black the bench seat also comes with a 10 year framework guarantee and is a long-lasting alternative to a wooden bench.
Exclusively Designed and Manufactured by Us in the UK
10 Year Framework Guarantee
RHS Endorsed
Arch Framework uses 25mm steel box section, galvanised and powder coated matt black
Trellis panels use 3mm welded mesh and 8mm wire surround frame - zinc plated and powder coated matt black
Complete Arbour Kit includes arch framework and full back trellis includes a pair of top quarter panels and 1 landscape panel
Arch measures 1.5m wide x 2.20m high - above ground
Available in 3 depths - 0.6m, 1.05m and 1.55m
Top quarter trellis panels measure 69cm W x 77cm H each
Landscape trellis panel measures 140cm W x 69cm H
Available with or without the the slatted seat bench
Bench seat measures 1.3m W x 0.45m D x 0.45m H
Arch uprights are designed to be inserted 40cm into the ground for stability
Supplied with all required fixings and full instructions
Self Assembly
We are here to help with your Garden Arbour Project and can offer a complete Made to Measure Service if you can't see the ideal size for your garden. We have previously created a Roman fully latticed arbor and a Half lattice roman arbor with fence and integral bench, to bespoke designs.
Visit our Made to Measure page for more information and to complete our easy online Made to Measure Quotation Form or call 0333 400 1444.