Harrod Roman Arch Arbour - Create Your Own
£14.95 P&P
Create your own Harrod Roman Arch Arbour with a choice of arch depths and different trellis panels ideal for supporting fragrant and colourful climbers to make a real garden focal point.
Read More
10 Year
Framework
Guarantee
Exclusive Designed &
Made by us in the UK
3 Working
day despatch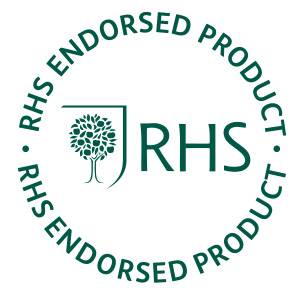 Create your own Harrod Roman Arch Arbour with a choice of arch depths and different trellis panels ideal for supporting fragrant and colourful climbers to make a real garden focal point. Based on our best selling Roman Arch the Roman Arch Arbour kit offers a long lasting alternative to timber and comes with a 10 year framework guarantee.
If you are looking for a complete kit then see our Complete Roman Arch Arbour Kits with full mesh trellis backing.
To create your own Roman Arch Arbour, select the depth of the arch you require 0.6m, 1.05m or 1.55m - all Arches measure 1.5m wide x 2.45m high.

Then, decide which trellis panels you want on the back of the arbour:-
Pair of 1/4 Panels which cover the top curve of the arch
Single Landscape Panel which fits hortizontally across the arch framework
Double Landscape Panels, 2 panels sitting horizontally across the back of the arch framework
Panels can also be combined, 1/4 panels with single or double landscape panels.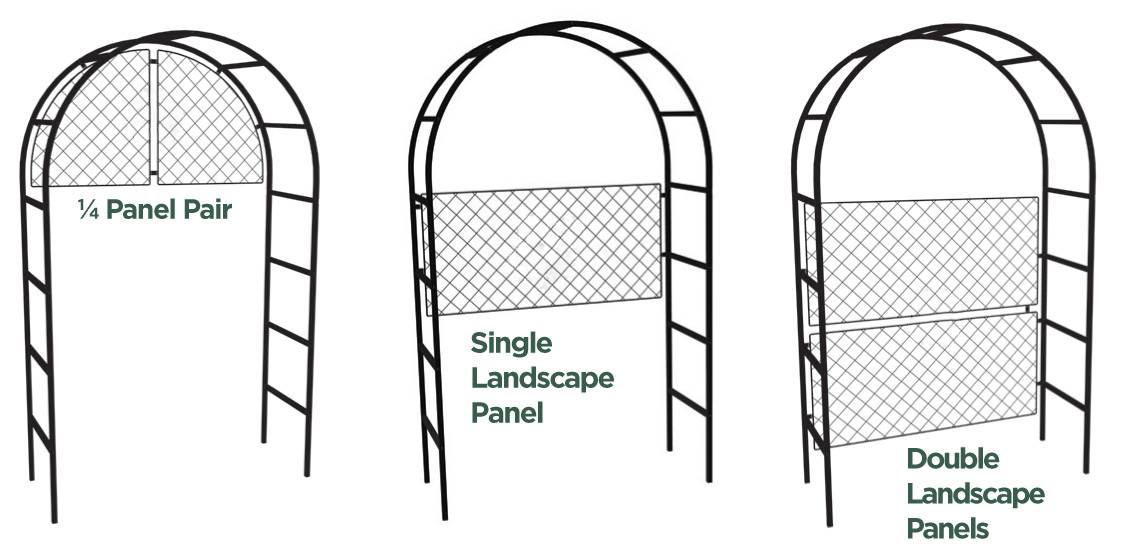 Endorsed by the RHS, this attractive Roman Arch Arbour Kit is made using high quality materials to give you a garden arbour that will last for years. The Arch framework uses strong 25mm box section steel which is galvanised and high temperature powder coated Matt Black for a long lasting weatherproof finish. The framework fits together with discreet steel reinforced connectors for greater stability and fit inside the framework for a flush neat finish. The Trellis Mesh Panels use precision resistance-welded 3mm steel wire mesh with an 8mm surround frame, all zinc plated and powder coated matt black.
There is also the option of adding the Harrod Garden Bench to your Arbour. This sits neatly within the framework and really adds a finishing touch, making the arbour into a comfortable and relaxing seating area.
Designed and Manufactured in the UK by Us
10 Year Framework Guarantee
RHS Endorsed
Roman Arch uses 25mm box section steel, galvanised and powder coated matt black
Trellis panels use 3mm welded wire mesh and 8mm wire frame surround, zinc plated and powder coated matt black
Arches available in 3 depths - 0.6m, 1.05m & 1.55m
Arches measure 1.5m wide x 2.45m high
1/4 Trellis Panels supplied as a pair - measure 69cm wide x 77cm high each
Single and Double Landscape Panels measure 140cm wide x 69cm high each
Optional Garden Bench available separately
Supplied with all necessary fixings and full instructions
Self assembly
If you are looking for a complete kit then see our Complete Roman Arch Arbour Kits with full mesh trellis backing.
If you can't see the size or style to suit then we offer a Made to Measure service to create your own bespoke arbour. Some examples of previous designs we have made for customers can be seen in our Design Gallery. We have previously created a Roman fully latticed arbor and a Half lattice roman arbor with fence and integral bench, to bespoke designs. To find out more please contact our Made to Measure team on 0333 400 1444 or email madetomeasure@harrod.uk.com.