Harrod Integral Staging Willow Grey
This product is exempt from any promotions, discounts and express delivery.
The integral Greenhouse Staging in Willow Grey has been cleverly designed to maximise space using sturdy support legs which angle back to the side of the greenhouse providing an unobstructed area below the staging to work within.
Read More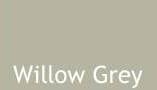 The strong Aluminium Integral Greenhouse Staging, designed to be used with our Superior Greenhouses, is powder coated in stylish Willow Grey to match the Greenhouse and is available in both Low Level and Eye Level heights designed to fit one above the other. Eye level staging is 1ft/30cm Deep and the Low Level Staging is 2ft/60cm Deep.
Extremely neat and efficient way of maximising growing space. It doesn't rely on the greenhouse frame for its strength, instead it has incredibly sturdy support legs with a tubular section that is angled back to the greenhouse sides. This provides an unobstructed area below the staging to sit and work within.
This quality greenhouse staging features 10cm slats for drainage and even the smaller eye level staging is wide enough for seed trays and pots.
Supplied in foot lengths but must be ordered in multiples of 2ft - i.e. 2ft, 4ft, 6ft, 8ft etc... Simply order the amount to achieve the length required. (e.g. for a 6ft length change the order quantity to 6).
DELIVERY - please allow 2 weeks for delivery. There is an additional surcharge for deliveries to Scotland, Wales and Cornwall - please call 0333 400 1444 for a quote.
Integral Staging - Powder Coated In Willow Grey
Designed to fit our Superior Greenhouses Only
Available as Eye Level & Low Level Staging
Eye Level staging 1ft/30cm Deep
Low Level staging 2ft/60cm Deep
10cm wide slats
Sturdy support legs fix to greenhouse sides
Creates unobstructed area below staging
Please order staging in multiples of 2ft as required i.e. 2ft, 4ft, 6ft, 8ft etc...