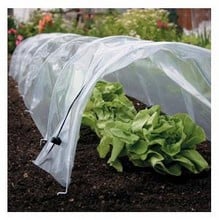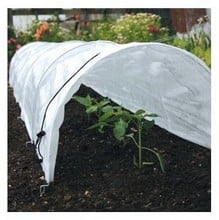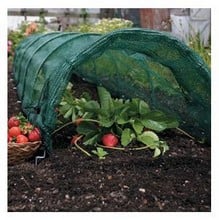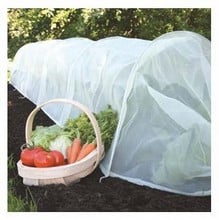 Our Giant Crop Protection Tunnel Packs, available in sets of two, enable you to keep your allotment and kitchen garden crops protected in a big way almost all year round thanks to the variety of coverings; choose from fleece for winter protection, polythene for early and late season growing and warmth and the net tunnel for stopping birds gobbling up ripening summer fruit.

Our Giant Crop Protection Tunnel Packs also offer excellent value for money as you could enjoy savings of £5 when purchasing two of the 3m long, 60cm wide by 45cm high tunnels. Each tunnel features in-built steel hoops for support and drawstring ends which can be opened for ventilation and secured shut for protection; and as each tunnel 'concertinas' out, you can make the protection frame as short as required. Giant Crop Protection Tunnel Packs (Set of Two) are easy to erect, fold away and store and will give years of crop protection service.


Giant Crop Protection Tunnel Packs (Set of Two) offer a saving of £5
Net version only available
Each tunnel measures 3m L x 60cm W x 45cm H
Tunnels complete with adjustable drawstring ends
Sturdy steel hoops form frame and anchor tunnel into soil
Simply fold out tunnel and push steel hoops into soil
Easy to fold up
Tunnel can be set up to any length up to 3m
Folds flat for easy storage
30gsm fleece tunnel keeps out worst of winter weather
Provides up to 6m of crop protection with a pack of two giant net tunnels
29th April 2015
I now have quite a few of these tunnels and have found that the quality is second to none. I have previously bought other tunnels fom garden centres and they do not compare. I use the tunnels to warm the soil to 'bring on' my seedlings. I strongly recommend uring them immediately!! Also, the speedy delivery service is superb.
15th February 2012
SPEEDY SERVICE AND DELIVERY, VEG LAST YEAR LOST DUE TO BUTTERFLY DAMAGE, THIS YEAR WILL SEE THEM MOVE ON TO NEXT DOORS ALLOTMENT.