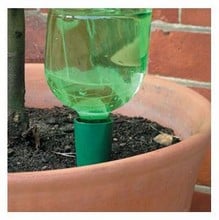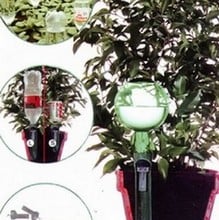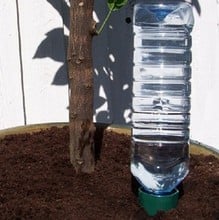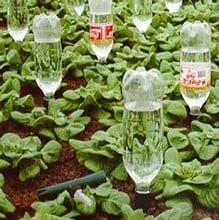 Drinks Bottle Watering Spike
£3.95 P&P
The Bottle top Watering Spike simply pushes into the soil to ensure the water reaches the roots and is designed to accept most plastic drinks bottles up to 2 litres.
Read More
The Bottle Top Watering Spikes simply push into the soil to ensure the water reaches the roots and are designed to accept most plastic drinks bottles up to 2 litres. With the 'Aqua Balance' Adjustable Dripper they are the worlds only fully automatic watering system controlled by the weather, or room conditions.
Simply Adjust the Dripper, screw it onto a partly filled plastic bottle, invert the bottle, squeeze it to clear airlocks and then put into your pre-positioned Watering Spike. When the water/air in your bottle reaches ambient temperature and pressure your Watering Spike will automatically supply measured amounts of water to your plant roots.
Buy the Set of 5 (GWT-062) and SAVE £3.80!
Automatic watering system controlled by the weather, or room conditions.
The long watering spikes are ideal for use in large pot plants, outdoor beds, vegetable patches and deep rooted plants
One filling of a litre bottle last 1.5 - 3 weeks
Will fit most plastic bottles up to 2 litres
Can be used indoors, outdoors and in the greenhouse
Perfect for a 'Holiday Watering' solution
18th September 2015
Drinks bottles collapse and in some cases the water distribution is poor or it fails to deliver water, but possibly better than nothing if going away. I would not use it if I was around to water. It may be better if installed when potting up plants.
24th September 2012
On the manufacturer's own WebSite this product is displayed with hard plastic 1 litre water reservoir and probably works well. 2 litre plastic drinks bottles merely collapse when still a third or quarter full and flow ceases. The same happens to a lesser extent with 1 litre bottles. Clever idea but unreliable.
6th June 2012
This product is being used in a greenhouse and has performed well. The adjustments took a little bit of care in order that the flow rate could support 2 weeks of unattended watering. As stated in the accompanying info "pop bottles" of 2 litres can be used but they DO collapse readily and tend to be permanently disfigured and unusable when left for long periods