335 Litre ComposTumbler
£9.95 P&P
Size:
109cm H x 107cm W x 84cm D
The 335 Litre ComposTumbler will help you speed up your composting, the regular turning efficiently mixes the material in the composter, allowing the natural bacteria to work faster making ready to use compost in weeks not months
Read More
The Compact Compostumbler holds over four 75 Litre garden waste bags of material and can produce finished compost in as little as 14 days under optimum conditions. Just spin the drum of the 335 litre ComposTumbler a couple of times once a day and this efficient mixing will allow the natural bacteria to go to work fast, producing your finished compost much quicker than traditional bins.
Holds up to 335 Litres for composting
Measures 43"/109cm High x 42"/107cm Wide x 33"/84cm Deep
Drum stands 12"/30cm off the ground for easy filling and emptying
Drum is made of rust resistant galvanised steel
Frame is made from tubular steel with black powder coated finish
Aerator / Drainage units on the door to prevent waterlogging
Screened vents in the end caps for better air circulation
Gear driven handle on frame for easy turning
Sage Green Colour
Finished compost in as little as 14 days in optimum conditions
Use with the Sifter Screen for a finer grade of compost
2 Year Warranty!
Success with your ComposTumbler is almost guaranteed when you follow the easy tips and compost 'recipes' you'll find in the valuable guide - 'How to Make Superior Compost.' It's yours FREE with your ComposTumbler!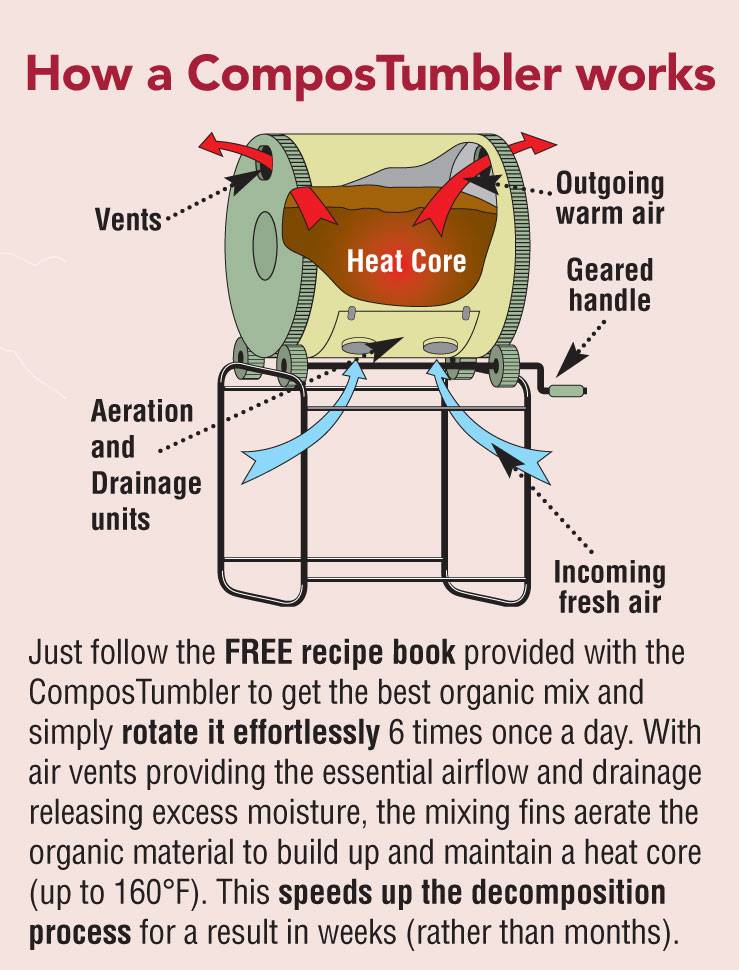 28th December 2016
I'll certainly buy another one when I have a shed big enough to accommodate it. I use my previous one in the garage m(too small for the car) and it was brilliant. With handy electricity for my shredder I was able to fill it with just the right amount of prepared material according to instructions. It did exactly what it said on the tin. However, when I took it to my allotment and placed it in the open, never produced enough heat, the material was too coarse and it soon rusted away. But I loved it when it worked, so little effort and so convenient (at home).
24th October 2013
Having already owned one of these, I bought another with a heavy heart. My first one fell apart as first the frame rusted and then buckled (replaced at considerable expense); this happened again, and at the same time the rods holding the drum together rusted away, so I decided to start again. The problem is that there is not really an alternative for something of this size, and I admit that it does work, although I can't imagine many have the time to measure, chop etc. in line with the instructions to get it to perform as promised. No, my real complaint is that for something of this price, the quality of the construction should be much higher. I don't think that a frame that is out-of-doors should be so flimsy in the first place and so prone to rust, and I was astounded when the internal rods rusted away - helloooo - are the makers surprised that there is damp material in there? Given that it is American, I am surprised their much more actively complaining customers have not forced a re-design. As I say, though, it does work, even if not for as long as it should, nor able to cope with the rough-and-tumble of composting.
11th June 2013
at first attempt i found that the core temp only reached 30 C then it dropped back to 20 C, i decided that the rain was getting in via the seams so i carefully masked up the seams and squrited in silicom mastic, made a neat job of it too, i also decided to keep filling it as and when the compost compacted down, was amazed to see the temp rise to 60C, i carefully mix green waste with straw, paper anything thats at hand, a bonus is that i collect a bit of compost soup, you'll need a cheap clean funnel to pour it into a plastic bottle, doubt if i'll get compost in 2 weeks more like 4 all in all seems a good product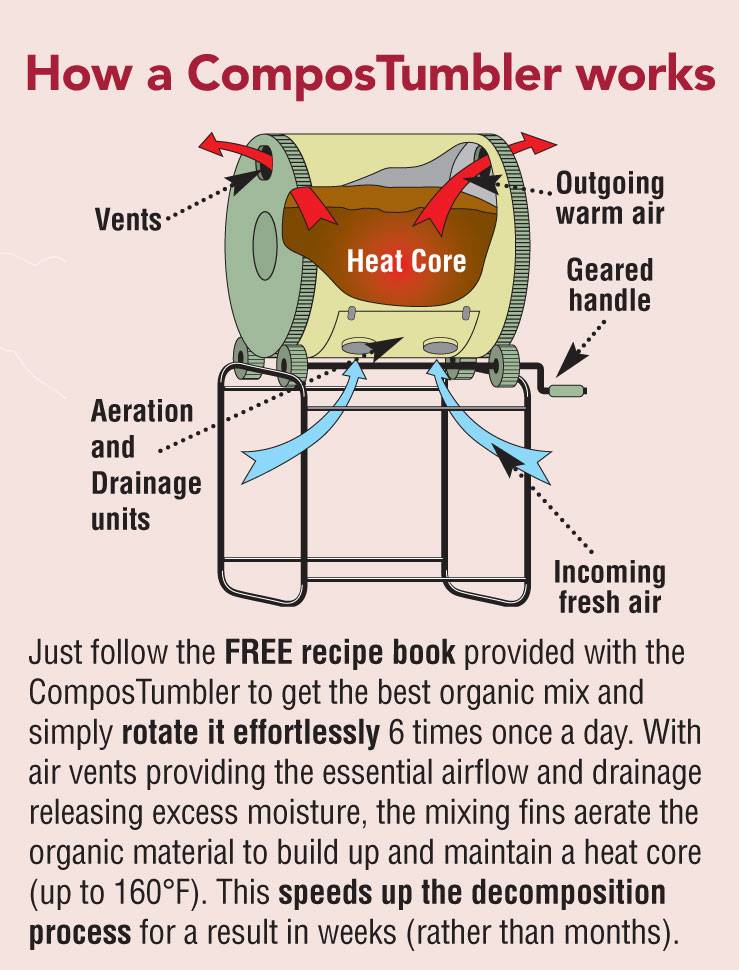 FREE booklet with every purchase of a ComposTumbler
Designed to make your understanding of the process as easy as possible and will serve as a quick reference guide for every aspect of your compost making experience.
Compost in 14 Days!
The ComposTumbler uses a unique process to make great compost in 14 days.You can make compost in 3 easy steps with a ComposTumbler.
Collect Organic Waste
1. Just collect a variety of organic waste materials from your yard, property and garden. Put them in your ComposTumbler, close the door, and immediately give the drum 5 turns.

Turn Your Compost
2. Give the drum 5 turns every day, once a day, for the next 13 days.

Finished Compost in 14 days!
3. On the 14th day open the door and tumble out your finished compost.
Tips:
Be sure the mix of ingredients you put in contains wastes high in nitrogen and carbon for a good balance.
What The Press Say
---
Country Smallholding
May 2009
Products: This month's smallholding accessories - Tip Top Tumbler
Compost tumblers can help turn what is traditionally a ten-plus month practice into a 14-day fast-track composting process. Fill with your organic waste from the garden and kitchen and give the drum a couple of spins once a day. Any liquid produced by the composting process – which traditionally leaches into the soil and is wasted – can be collected and used as a high potash feed.
---