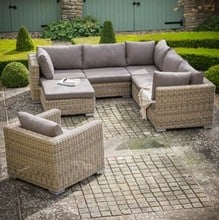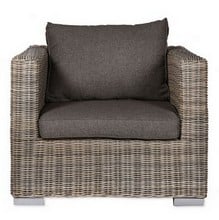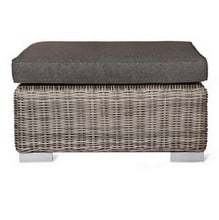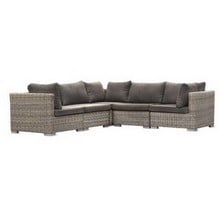 Marden Corner Sofa Set
£19.95 P&P
The Marden Corner Sofa Set is crafted from an all weather PE rattan that is woven onto tough Aluminium frames, the light brown colour complements beautifully with the deeper coloured 'linen look' showerproof cushions.
Read More
The Marden Corner Sofa Set is crafted from an all weather PE rattan that is woven onto tough Aluminium frames, the light brown colour complements beautifully with the deeper coloured 'linen look' showerproof cushions.
The cushions are made from a polyester fabric that have the appearance of raw linen, they are removable and should be wiped clean rather than washed to avoid losing the protective showerproofing. We would suggest keeping the cushions dry wherever possible and storing the complete sofa set under cover during winter months to prolong its life.
If you have a large space in the garden to fill then the Marden Corner Sofa Group is certainly the one to choose. This unbelievably easy structure can be moved effortlessly and would also look stunning in a large conservatory or garden room.
This Sofa Set will be delivered by a two-man delivery company who will contact you directly to arrange a convenient delivery date. Please allow 5 - 7 working days from the date of placing your order to receiving your delivery.
For deliveries outside main land UK, Channel Islands, Isle of Wight, and Scottish Islands please enquire for carriage quote.
The items will be unpacked and put into position by the drivers and all packaging will be taken away. If there are any access restrictions please make our drivers aware when they contact you.
Marden Sofa Set comprises Sofa, Armchair and Ottoman
The Ottoman can be used as a chaise lounge extension, a coffee table or stool
The Sofa is made up of 3 corner sections and 2 central sections
Corner seats measure 65cm H x 87cm W x 87cm D (20.2kg)
Central seats measure 65cm H x 77cm W x 87cm D (15.6kg)
Overall length of each side is 251cm
Armchair measures 65cm H x 87cm W x 87cm D (21.3kg)
Ottoman measures 32cm H x 77cm W x 77cm D (12kg)