Page 28 - Harrod Horticultural - Hyrbid SS22
P. 28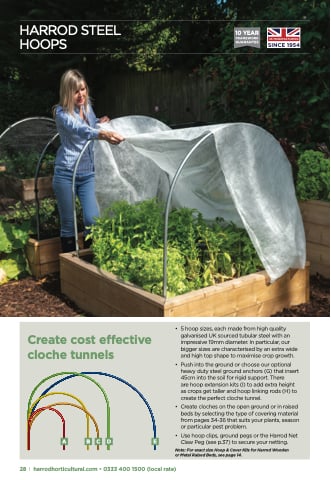 HARROD STEEL HOOPS
10 YEAR FRAMEWORK GUARANTEE
Create cost effective cloche tunnels
•
•
•
•
5hoopsizes,eachmadefromhighquality galvanised UK sourced tubular steel with an impressive 19mm diameter. In particular, our bigger sizes are characterised by an extra wide and high top shape to maximise crop growth.
Pushintothegroundorchooseouroptional heavy duty steel ground anchors (G) that insert 45cm into the soil for rigid support. There
are hoop extension kits (I) to add extra height as crops get taller and hoop linking rods (H) to create the perfect cloche tunnel.
Createclochesontheopengroundorinraised beds by selecting the type of covering material from pages 34-36 that suits your plants, season or particular pest problem.
Usehoopclips,groundpegsortheHarrodNet
Claw Peg (see p.37) to secure your netting.
A B C D E
28 I harrodhorticultural.com • 0333 400 1500 (local rate)
Note: For exact size Hoop & Cover Kits for Harrod Wooden or Metal Raised Beds, see page 14.