Since I raised the question of what is a bilberry rake last week, I've been swamped with replies. Seems this tool is not as elusive or mysterious as first thought and thanks to lilymarlene who's provided the following link - http://frugalupstate.blogspot.com/2006/07/blueberry-rake.html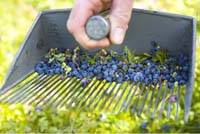 Often referred to as a Blueberry rake and that's really opened up a can of worms. So now I've got another question - what's the difference between a blueberry and a bilberry, and where does a blaeberry fit into it all?
If all this talk of blueberries has persuaded you to grow your own, you'll need some plants.

And when you finally get your blueberry bushes, you'll find some helpful advice on to how to get best from them on the RHS website.
Then of course it'll be harvest time, and the easiest way to pick them is - exactly where we came in!