Tumbleweed Compost Tumbler
Spin the 220 litre Tumbleweed Compost Tumbler every two days and the unique tumble action will promote rapid decomposition and compost in just 4 weeks...More information
Pack Content: single item
Size: 100cm H x 65cm W x 85cm D
Product Code: GCO-459
Rating:
Add kitchen and grass waste to the 220 litre Tumbleweed Compost Tumbler, effortlessly spin every two days and the unique tumble action will promote rapid decomposition and compost in just 4 weeks - no forking, turning or lifting. It's the patented centrally mounted stainless steel breaker bar in the UV treated polypropylene bin that is key for ensuring a speedy and odourless aeration process whilst the galvanised steel legs stabilise the whole assembly.
Complete with full instructions for easy assembly
Assembled height of 117cms
Composter dimensions: 100cm H x 65cm W x 85cm D
220 litre capacity
Weighs 10kg empty
Product Reviews

7th September 2016
Brilliant compost bin, really quick service.
13th July 2016
I found this to be well made and easy to assemble. I have no reason to think it will not do as said on the box. It is off the ground which keeps vermin away, my main reason for purchase. Gives a good workout when turning it, but not impossible at 70 yrs old! Worth every penny as far as I'm concerned, and what a great company to deal with!
22nd August 2015
I have used this once having only had it for 4 weeks. The compost rotted well over the period but was very slimy and therefore did not break down as expected but remained in lumps. I will try adding cardboard etc next time. It was very heavy to turn and took 2 to manage it, a handle would have been very useful. It was also important that it should be on a very level surface otherwise the frame could easily twist. The assembly instructions were easy and it was quick to assemble This time I have put less in and it is easy to turn single handed I would definitely recommend the product but its a bit of trial and error I believe to get the best out of it.
See Buying Options
220 Litre Compost Tumbler
Why fork when you can tumble is the strapline for the 220 Litre Compost Tumbler - and here's a few reasons why this particular composter could be an asset to your home composting set-up...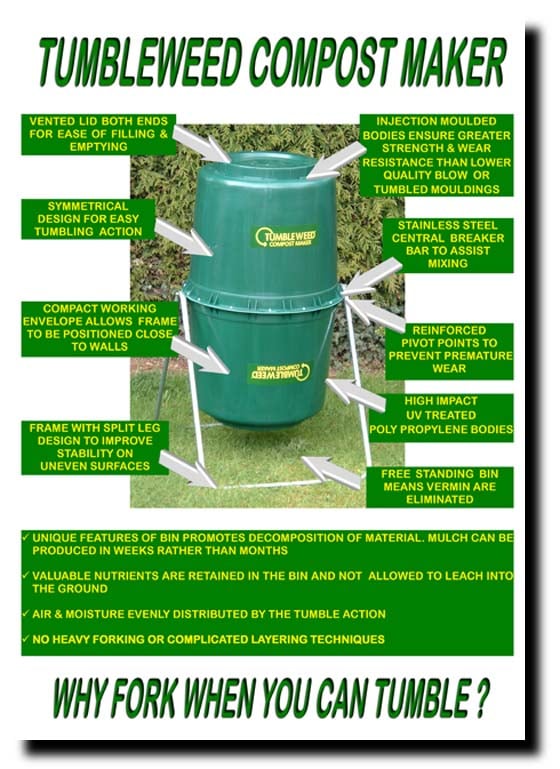 What The Press Say
Grow Your Own
November 2013
Pick of the Crop
Make turning your compost extra-easy. This bin's sturdy stand means it can be tumbled round and round, speeding up the composting process. Just fill it with grass clippings, shredded garden pruning's and other suitable waste then turn it every two to three days. The bin has a 220 litre capacity.
Gardeners' World
December 2012
Best Buy Compost Bins
"Fastest - The large drum swings on a metal frame, which makes it fairly easy to 'tumble' the compost, although it was a two person job when full. Large hatches both ends made for simple emptying. Tighten the fixings from time to time - I didn't, and it collapsed - and don't over-fill as the legs started to warp when heavily loaded."
See Buying Options