Our Heritage
A family business for almost 60 years! Our story begins in the 1950s, when Ron Harrod had the inspired idea of converting old fishing nets from the nearby Lowestoft herring industry into sports nets for schools and clubs. Even today our parent company Harrod UK remains an esteemed market leader in sports equipment and netting, supplying leading events and major sporting venues such as the 2012 Olympics, Manchester Commonwealth Games, Rugby World Cup and Premier League Football clubs amongst a host of others.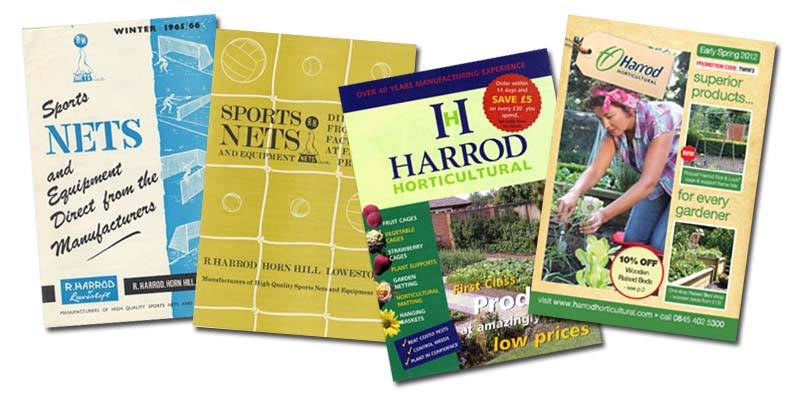 We soon realised we could use our rare net-making skills and equipment for something gardeners were crying out for – net protection for their crops from birds, rabbits and other pests. With such diversity, and in-house manufacturing at our disposal, it felt right to branch out and in 2000 Harrod Horticultural was born with organic gardening advocator Stephanie Harrod at the helm.

We have always seen our relationship with customers as like one gardener talking to another and to this end the inception of Stephanie's Kitchen Garden project in 2005 at her country home on the East Anglian coast has evolved to provide the necessary testing ground for all our existing and new products before committing them to the range. Designed by Tom Hoblyn, the Chelsea and Hampton Court RHS gold medal winning designer, the one third of an acre Victorian-style plot is also a great venue for staff to sharpen their organic vegetable growing and gardening skills as well as their product knowledge first hand.

With Managing Director, Stephanie's organic growing ethos, the use of market intelligence, working with prestigious RHS gardens and listening to customers are all factors which have come together to play an invaluable part in establishing one of the widest and highest quality ranges that inspires fruit and vegetable growers with stylish looking products which deliver great results too. Our reputation for product design and development is second to none so when you buy our products you can buy with confidence. At the heart of the range is the exclusive and superior collection of fruit and vegetable cages, the "one stop shop" raised beds and our RHS endorsed garden structures.

Progress through the years has been relentless and what was launched as a 16 page gardening catalogue 12 years ago has blossomed into an impressive 116 page mail order must-have guide. We've done a lot in nearly half a century, but some things have stayed exactly as they were... today we still design and manufacture our in-house products at our HQ in Suffolk, we're still a company driven by our family values and we're always committed to delivering the very best to our customers – whatever it takes.